Hi everyone,
Recently when I upgrade my Developer studio from DS 3.3.0.201501281210 to any later DS version, for exampe DS3.5 (Build Version 3.5.0.201506190944), I can not build projects in headless mode anymore, even if install new DS in different folder.
Here is my setting:
Build command:
C:\DSTemp already created in C drive,
All packages already installed in Packages manager.
Open command prompt: change dir to E:\DS3.5.M1.201506190944\DeveloperStudio, then run command:
devstudio.exe -nosplash -consoleLog -application com.swi.ebs.commons.core.buildmanager -data C:\DSTemp\ -create hello_world -sample hello_world -pkgRef "Firmware Package (7.53.0.201502160745)" -pkgRef "Open AT OS Package (6.53.0.201503311458)" -pkgRef "Internet Library Package (5.57.0.201502130730)"
Error display as below: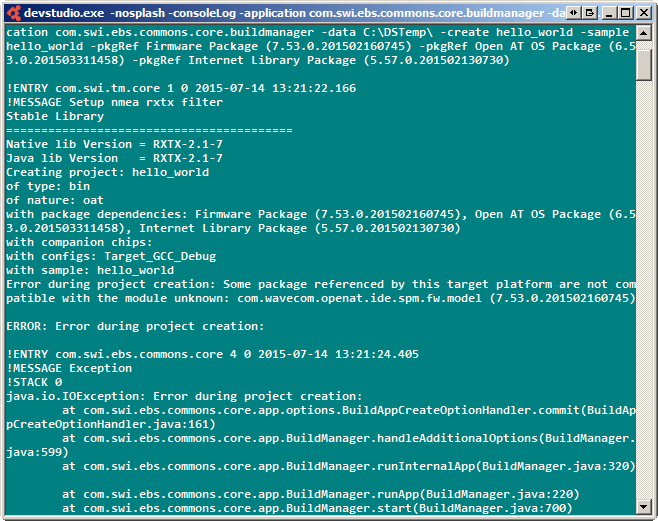 And a popup windows showed: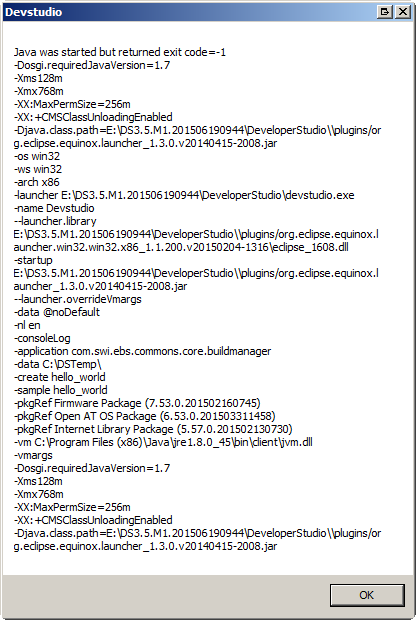 Java:
E:\DS3.5.M1.201506190944\DeveloperStudio>java -version
java version "1.8.0_45"
Java™ SE Runtime Environment (build 1.8.0_45-b15)
Java HotSpot™ Client VM (build 25.45-b02, mixed mode, sharing)
I don't know what wrong with later DS (from 3.3.0.201501281210, it works on this version)
I will greatly appreciate if anyone help me. Thank you very much.